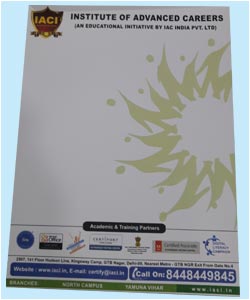 Are you looking for letterhead printing in Delhi, Gurugram, Noida? Your search ends. We will print the letterhead in one day and take it to your home or office.
There is a saying first impression is the last impression. Letterhead helps to show your company's brand. That is why it is important to have your letterhead made of good quality. A good designed and best quality printed letterhead is one of your most essential marketing product. PamphletWorld offers fast turnaround on a wide range of colorful printed letterheads which are available in a various finished, sizes and ready for same day delivery. We use screen printing and offset printing for letterheads. PamphletWorld is the reputed letterhead maker if you are looking for letterhead printing online as well as cheap cost doorstep service provider. You can order letterhead printing from any corner of Delhi, Gurgaon, Noida.
Letterhead printing shows your company as a brand:
May be we are living a digital life now. But the company letterhead still plays an important role for the business. It's a great way represent your brand's recognition as well as ensuring that you are established. Just as we still exchange the letters, that is why the branded stationery is also important to your company. It is not necessary that only a big company use good letterhead. You can use a branded letterhead in any kind of business to maintain the standard of your company. We use high quality letterhead printing machine to get better output. Even we are the cheap letterhead printing press near you. Doctors can order their prescription pad printing. We do high quality letterhead design and printing or medical prescriptions for any doctor or hospital.
For the idea of letterhead design, you can see letterhead images or letterhead formats in our gallery. Therefore if you are looking for the letterhead printing in Delhi, then give us a chance. So do not delay and get your personalised letterhead now. Hence call us on 88262 21873 of just fill the contact form and we will get back to you asap.
Different sizes letterhead printing:
A4 size (210 x 297 mm)
A5 size (148 x 210 mm)
Letter size (215 x 279 mm)
Company letterhead paper types:
We use branded papers for letterhead printing such as Bilt Royal Executive Bond Papers and DO papers, and different gsm papers.
Royal executive bond paper 85 gsm (watermarked)
Royal executive bond paper 100gsm (watermarked)
Do paper 100gsm (non watermarked)
How much does it cost to print letterhead?
Cheap cost A4 size letterhead printing charges | Print and free delivery to your doorstep at same-day

QTY
SIZE
PRINT
PAPER
PRICE
DELIVERY
100
A4
Colorful
100 Gsm Executive Bond
₹ 600
Free Delivery
200
A4
Colorful
100 Gsm Executive Bond
₹ 1100
Free Delivery
300
A4
Colorful
100 Gsm Executive Bond
₹ 1500
Free Delivery
400
A4
Colorful
100 Gsm Executive Bond
₹ 1800
Free Delivery
500
A4
Colorful
100 Gsm Executive Bond
₹ 2000
Free Delivery
1000
A4
Colorful
100 Gsm Executive Bond
₹ 3000
Free Delivery
2000
A4
Colorful
100 Gsm Executive Bond
₹ 5600
Free Delivery
4000
A4
Colorful
100 Gsm Executive Bond
₹ 8000
Free Delivery
Also you can order Pamphlet Brochure Sticker Poster Calendar Standee Visiting card Letterhead Bill Book Flex Banner Sunbard Canopy etc.