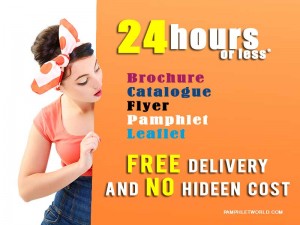 Pamphlet world is Delhi-NCR's leading online printing service provider. Just order us your Flyer / Pamphlet printing work online. As we know flyer is a popular marketing tool for local businesses.
There are many standard sizes for flyers. Pamphlet World offers flyers in five different sizes: Small — 5 inch by 3.75 inches, 8 inches by 4 inches, Medium — 8.25 inches by 5.5 inches, 8.4 inches by 7.4 inches, Large — 11.5 inches by 8.25 inches. We are cheapest, quickest and easiest Flyer printer in Delhi & NCR.
We serve High-Quality, Cost-Effective & Hassle-Free way to print online offset printing products like Pamphlet, Leaflet, Flyer, Handbill, Brochure, Catalogue, Sticker, Dangler, Table Calendar, Wall Calendar, Envelopes, Restaurants menu, Tent Card for Restaurant, Business cards, Letterhead etc. Click here for pamphlets printing quotation or call our executive on 8826-221-873 or fill our contact form, we will call you back as soon as possible.
A5 size color Leaflet Printing cost on 90 gsm glossy art paper
| | | | |
| --- | --- | --- | --- |
| Quantity | Cost | Timeline | Delivery |
| 1000 | 3000/- | 24 Hours | Free delivery in Delhi, Gurgaon, Noida, Faridabad, Ghaziabad, Bahadurgarh. |
| 2000 | 4000/- | 24 Hours | Free delivery in Delhi, Gurgaon, Noida, Faridabad, Ghaziabad, Bahadurgarh. |
| 4000 | 5000/- | 24 Hours | Free delivery in Delhi, Gurgaon, Noida, Faridabad, Ghaziabad, Bahadurgarh. |
| 8000 | 6000/- | 24 Hours | Free delivery in Delhi, Gurgaon, Noida, Faridabad, Ghaziabad, Bahadurgarh. |
| 16000 | 9000/- | 24 Hours | Free delivery in Delhi, Gurgaon, Noida, Faridabad, Ghaziabad, Bahadurgarh. |
| 32000 | 18000/- | 24 Hours | Free delivery in Delhi, Gurgaon, Noida, Faridabad, Ghaziabad, Bahadurgarh. |
| 50000 | 24000/- | 24 Hours | Free delivery in Delhi, Gurgaon, Noida, Faridabad, Ghaziabad, Bahadurgarh. |
| 100000 | 40000/- | 24 Hours | Free delivery in Delhi, Gurgaon, Noida, Faridabad, Ghaziabad, Bahadurgarh. |
Call us now 8826-221-873. We're always ready to help you! Send your design or order us to make a design for you. You can send your file at pamphletworld10@gmail.com