We are one of the affordable offset printing and cheap flyer printing services in Delhi, Gurugram, Noida, Greater Noida, Ghaziabad and Faridabad. Here at PamphletWorld, we strive to deliver top quality printing services using latest technology across Delhi including Gurugram, Noida, Ghaziabad, Indirapuram, Faridabad. Need single or double sided flyers? PamphletWorld specializes in Flyer printing, brochure printing. We supply fast printing with cheap printing prices to Delhi-NCR (India).
So, order now to print superior quality flyers at affordable rates. We guarantee low price & superior quality flyer printing. Call us now and get a quote. There is NO better printer than PamphletWorld who is Cheap, Reliable, Fast and Free Delivery in the field of flyer printing. On-time delivery is our guarantee! Thanks to Delhi-NCR for making PamphletWorld #1 and 5-star ★★★★★ reviews. We are committed to provide high-quality output and our pride resides in our customers' satisfaction.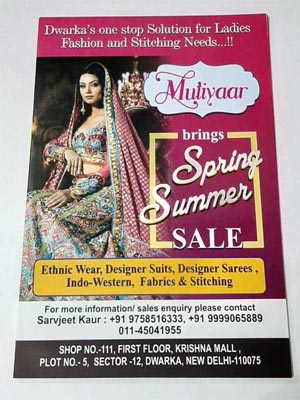 You can order from 1000 to 2 Lakh quantity Flyers. We can print & deliver to your doorstep same-day. Whether our flyers printing price is lowest in the market. Our service area isn't only Delhi, Gurugram, Noida but also we provide doorstep service to Ghaziabad, Faridabad, Greater Noida, Bahadurgarh wherever you are located. So, why do you worry to visit here and there? Just call us 88262 21873 and get the job at your foot-step.
Cheap rate A5 Flyer printing chart
(8.5 inch x 5.5 inch / 90 gsm glossy paper / Multi-color printing)

1000 Flyers
₹ 3500
24 hours
Free Delivery
2000 Flyers
₹ 4000

24 hours

Free Delivery

4000 Flyers
₹ 5000

24 hours

Free Delivery

8000 Flyers
₹ 7000

24 hours

Free Delivery

16,000 Flyers
₹ 12,000

24 hours

Free Delivery

32,000 Flyers
₹ 20,000

24 hours

Free Delivery

48,000 Flyers
₹ 28,000

24 hours

Free Delivery

1,00,000 Flyers
₹ 53,000

24 hours

Free Delivery

Please send your file to pamphletworld10@gmail.com
&
Cheap rate A4 Flyer printing chart
(8.5 inch x 11 inch / 90 gsm glossy paper / Multi-color printing)

1000 Flyers
₹ 4000
24 hours
Free Delivery
2000 Flyers
₹ 5000

24 hours

Free Delivery

4000 Flyers
₹ 7000

24 hours

Free Delivery

8000 Flyers
₹ 12,000

24 hours

Free Delivery

16,000 Flyers
₹ 24,000

24 hours

Free Delivery

32,000 Flyers
₹ 40,000

24 hours

Free Delivery

48,000 Flyers
₹ 56,000

24 hours

Free Delivery

1,00,000 Flyers
₹ 1,06,000

24 hours

Free Delivery

Please send your file to pamphletworld10@gmail.com
For more details please contact us
8826-221-873

or send mail to 

pamphletworld10@gmail.com